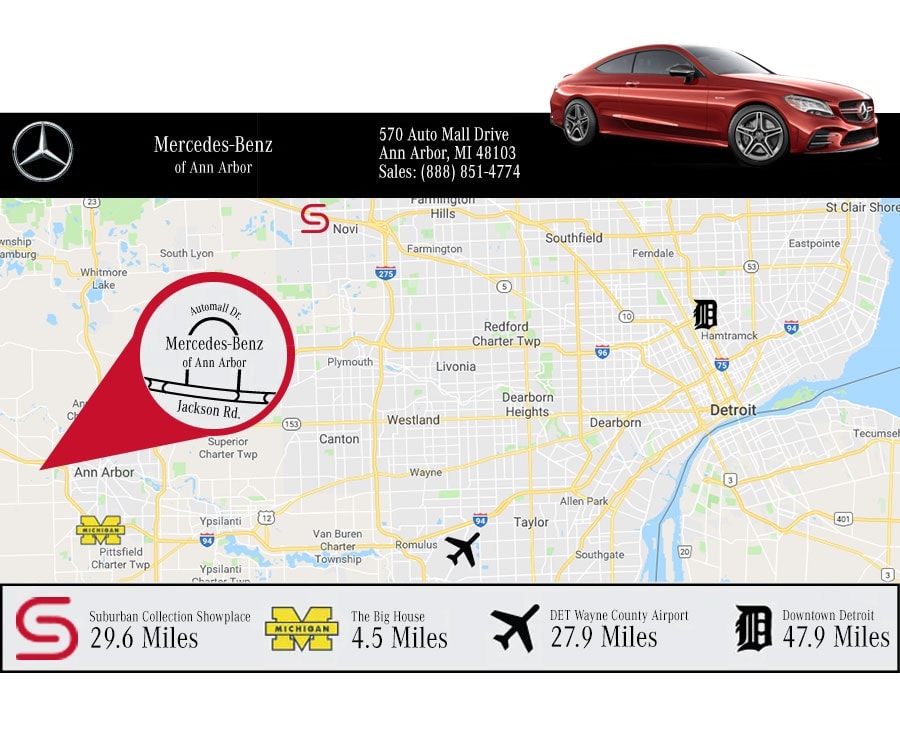 Take the Short Drive from Our Surrounding Areas to Mercedes-Benz of Ann Arbor
It can be challenging to find a location that meets all your automotive needs. At Mercedes-Benz of Ann Arbor, we provide everything from the latest Mercedes-Benz lineup to exceptional customer service to help you discover a better shopping experience. Our Mercedes-Benz is located near major highways, making it easy to visit from surrounding communities.
Follow straightforward directions to arrive at our Ann Arbor dealership in no time.
Directions from Ypsilanti
If you're in the center of town, head west on W Michigan Ave toward N Huron St
Turn left onto S Hamilton St
Use the right lane to merge onto I-94 W/US-12 W via the ramp to Ann Arbor/Detroit
Stay on I-94 W for about 10 miles before taking exit 172 for Jackson Ave
Turn left onto Jackson Ave, passing Bethlehem Cemetery
Turn right onto Auto Mall Dr
Turn left and immediately right to arrive at our location
Directions from Jackson
Head west on E Washington St
Turn right onto Martin Luther King Jr Dr
Turn left onto Cooper St
Slight right to merge onto I-94 E toward Ann Arbor
Keep right at the fork to stay on I-94 E, follow signs for Detroit after about 30 miles
Take exit 172 for I-94BL toward Ann Arbor
Keep right, follow signs for Stadium and merge onto I-94BL S/Jackson Ave
Merge onto I-94BL S/Jackson Ave
Sharp left onto Jackson Ave
Turn right onto Auto Mall Dr
Turn left and immediately right to arrive at our location
Direction from Saline
Head north-west on N Ann Arbor St
Continue onto Ann Arbor-Saline Rd
At the traffic circle, continue straight to stay on Ann Arbor-Saline Rd
Continue straight onto S Wagner Rd
At the traffic circle, continue straight to stay on S Wagner Rd
Turn left onto Jackson Rd
Turn right onto Auto Mall Dr
Turn left and immediately right to arrive at our location
Get Directions
* Indicates a required field
Showroom Hours
Monday

9:00AM-6:00PM

Tuesday

9:00AM-6:00PM

Wednesday

9:00AM-6:00PM

Thursday

9:00AM-6:00PM

Friday

9:00AM-6:00PM

Saturday

10:00AM-4:00PM

Sunday

Closed
See All Department Hours
Dealership Hours
Monday

9:00AM-6:00PM

Tuesday

9:00AM-6:00PM

Wednesday

9:00AM-6:00PM

Thursday

9:00AM-6:00PM

Friday

9:00AM-6:00PM

Saturday

10:00AM-4:00PM

Sunday

Closed
Parts Dept. Hours
Monday

7:00AM-6:00PM

Tuesday

7:00AM-6:00PM

Wednesday

7:00AM-6:00PM

Thursday

7:00AM-6:00PM

Friday

7:00AM-6:00PM

Saturday

8:00AM-2:00PM

Sunday

Closed
Service Dept. Hours
Monday

7:00AM-6:00PM

Tuesday

7:00AM-6:00PM

Wednesday

7:00AM-6:00PM

Thursday

7:00AM-6:00PM

Friday

7:00AM-6:00PM

Saturday

8:00AM-2:00PM

Sunday

Closed
Share