2019 GLA: Premium Practicality, Compact Comfort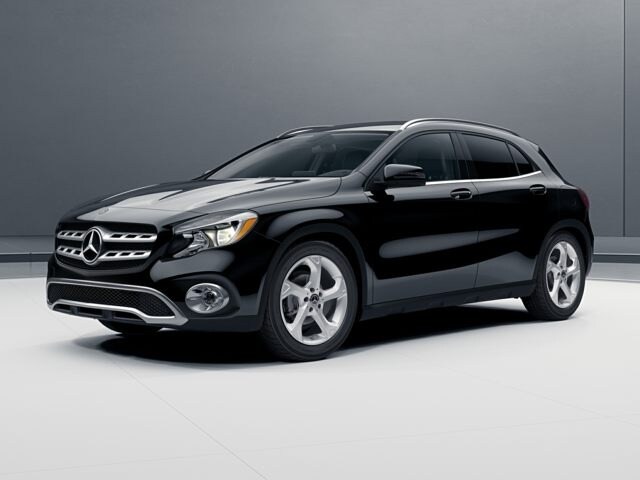 Schedule A Test Drive Today!
Mercedes-Benz has a great range of new luxury SUVs to choose from. Whether you're looking for a practical midsize option or a full-size SUV with family-ready accommodations, you'll likely find a model that fits. However, you may find one of the most dynamic experiences in the smallest of the bunch: the 2019 GLA.
The 2019 Mercedes-Benz GLA is a compact luxury SUV with dashing looks, exciting performance, upscale features, and everyday practicality that drivers are looking for. From its turbocharged engine to its flexible cargo space, the GLA is a demonstration of quality and versatility.
Striking from the Outside
On the outside, the GLA gives you everything you want from a Mercedes-Benz. Its distinct grille frames the fascia and adorns it with the unmistakable Mercedes-Benz insignia. Standard LED running lights and tail lamps add a modern touch. Available appearance packages can accentuate the look with gloss black trim pieces and different wheel options.
Compact, Yet Practical
The 2019 GLA defies its compact label with excellent practicality and flexibility. Even as the smallest SUV in the Mercedes-Benz lineup, it's able to accommodate substantial cargo. Folding down the rear seats allows for up to 43.6 cubic feet of cargo space. Available HANDS-FREE ACCESS makes it even easier to load cargo -- just move your foot under the bumper and the rear hatch will lift automatically.
Full-On Luxury
In keeping with the Mercedes-Benz modus operandi, the 2019 GLA places great emphasis on quality construction and estimable luxury. This is evident in the abundance of premium materials and tasteful design elements throughout the cabin. Metal and wood trim pieces give the space an unmistakably premium feel.
Multimedia Command Center
Easy infotainment access is a must for any modern luxury vehicle, and the 2019 GLA lives up to the expectation. Mercedes-Benz fitted the compact luxury SUV with a standard eight-inch color display in the center stack. This display allows drivers and passengers to explore a wide variety of functions. Apple CarPlay and Android Auto compatibility make it easy to show your mobile phone apps directly on the screen. You can also use the display to navigate Bluetooth connectivity functions. You can even access your DYNAMIC SELECT performance parameters.
Pronounced Performance
With the Mercedes-Benz GLA, it's not enough for the SUV to simply perform adequately. Rather, it seeks to provide an enjoyable and pleasant driving experience with accessible power, planted handling, and selectable driving settings.
Starting under the hood, the GLA offers a standard turbocharged 2.0-liter engine. Tap the gas and you'll have access to 208 horsepower and 258 pound-feet of torque. Power heads from the engine through a 7G-DCT seven-speed dual-clutch transmission. In automatic mode, the transmission shifts smoothly and efficiently. However, you can take control of shift points with steering wheel-mounted paddle shifters.
The GLA comes standard with front-wheel drive. If you want extra grip and confidence, you'll haeve to opt for the GLA 250 4MATIC SUV. The Mercedes-Benz 4MATIC all-wheel drive system uses clever technology and design to improve handling both around dry corners and through tough weather and terrain. The system uses a center differential to split power between the front and rear wheels. Power delivery can vary according to grip needs. The result is a system that constantly delivers power to the wheels that need it most.
Now, performance dynamics in the GLA need not remain the same at all times. The DYNAMIC SELECT feature lets you pick specific performance parameters according your momentary preferences. Sport mode makes throttle and shifting more responsive. ECO mode brings shift points down for better fuel economy. Comfort mode focuses on providing a smooth driving experience.
Safety Assistance
As with all else, Mercedes-Benz went the distance when it came to safety in the 2019 GLA. Sturdy construction, eight standard airbags, Electronic Stability Program (ABS), and much more help make the compact SUV a confident and safe driving experience. However, it's not just passive features that keep GLA passengers out of harm's way. A gamut of active features works hard to mitigate collisions and other dangerous situations.
If you encounter a collision and airbags deploy, Mercedes-Benz Emergency Call has you covered. The system automatically contacts Mercedes-Benz Emergency Services with your GPS location and vehicle condition. This support staff can summon emergency responders to your location.
If you're approaching a vehicle or object and a collision seems likely, Active Brake Assist can provide supplemental braking input. If you don't respond at all, the system will automatically employ braking. This feature works at speeds up to 65 mph.
Mercedes-Benz developed ATTENTION ASSIST to help keep drivers more aware on the road. The system analyses dozens of driver behaviors -- if certain combinations are detected, it can send an alert to help you bring your attention back to the road.
Available Blind Spot Assist uses radar to detect other vehicles in low visibility areas. If a vehicle is detected in your blind spot, the system can show an alert on your side mirror and sound an audible alert.
Optional Lane Keeping Assist monitors your proximity to lane lines. The wheel of your Mercedes-Benz GLA will vibrate if you begin to drift into another lane or off the road.
Active Distance Assist DISTRONIC® simplifies highway cruising. Set your speed and the system takes over. It uses radar monitor proximity to other vehicles, adjusting speed along the way to maintain a consistent distance.
p>Some other features make the GLA even easier to drive and live with. For example,
Active Parking Assist
can automatically steer you into tight or difficult parking spots. A
Surround View
camera system lets you see what's all around your GLA.
Rain-Sensing Windshield Wipers
can automatically activate when moisture is detected.
Contact Mercedes-Benz of Ann Arbor for a Test Drive Appointment with the 2019 GLA
Mercedes-Benz of Ann Arbor is here to help you get the Mercedes-Benz that's right for you. If the new GLA catches your attention, be sure to reach out and request a test drive. We can pair you with a member of our sales staff who can answer your questions and explain the new model's updates and features.