2020 Mercedes-Benz GLC SUV Comes with Updates and New Features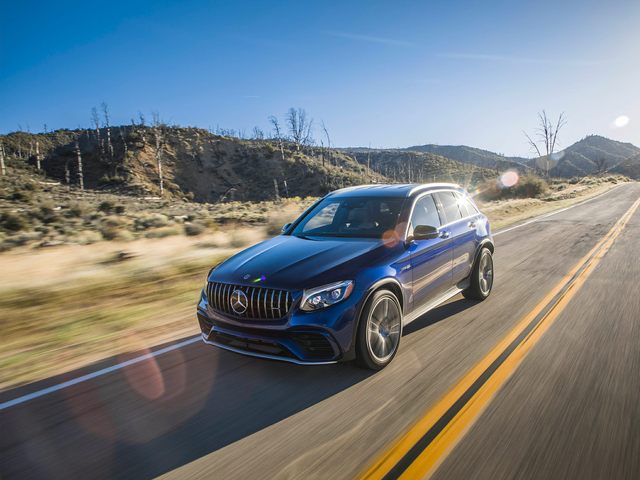 Initially introduced in 2016, the 2020 Mercedes-Benz GLC continues to lead the way for small luxury SUVs. Drivers in the Ypsilanti area have known for a few years that the GLC offers a seriously compelling package of performance, luxury, and style, and the model is getting even better with updates for the new model year. If you're looking for an SUV that perfectly blends premium sensibilities with confident performance, then the 2020 Mercedes-Benz GLC is a perfect option to consider.
Schedule A Test Drive Today!
Updates for the 2020 Mercedes-Benz GLC
The 2020 Mercedes-Benz GLC gets a minor refresh for the new model year. Exterior styling has been touched up with some gentler lines, new headlights, and a reshaped grille. Powertrain updates result in more power under the hood for certain models, plus the GLC 350e plug-in gets a bigger battery and more range.
Upscale Features and Design
There's a clear focus on upscale design inside the 2020 GLC. Its exterior features beautifully sculpted body lines, tasteful silver trim pieces, and standard LED running lights. The premium experience continues inside the cabin.
Soft-touch surfaces, premium materials, and handsome shapes are found throughout the cabin of the 2020 GLC. The steering wheel alone offers a leather grip with quality metal controls and a three-spoke shape. Circular chrome air vents are balanced by an available wood-clad center stack. Ambient lighting options means you can adjust the settings to fit your mood or occasion. It's a premium space that focuses on comfort and serenity, yet it's still equipped for your more utilitarian needs. Its rear cargo space tops out at 56.5 cubic feet with the rear seats folded down.
Impressive Power and Capability
The 2020 Mercedes-Benz GLC is a luxury SUV that delivers on its promise for confidence-inspired performance. Turbocharged engines, adaptive driving dynamics, and other elements help this SUV provide compelling experiences behind the wheel.
The powertrains alone are impressive inside the new GLC. New GLC 300 models get a standard turbocharged four-cylinder engine with 255 horsepower and 273 pound-feet of torque. With this engine, the GLC can run from zero to 60 mph in a brisk 6.1 seconds. Meanwhile, the new GLC 350e uses a hybrid powertrain with a combined 315 horsepower and 413 pound-feet of torque.
A nine-speed automatic transmission with selectable drive modes is standard for all GLC models. You can also get the renowned 4MATIC all-wheel drive system for extra confidence in snowy or wet conditions.
Advanced Technology
There's more cutting-edge technology than ever before in the 2020 GLC SUV. From infotainment to safety, the new model has its bases covered with intuitive, useful features.
One of the most prominent updates for the 2020 model is its switch to the new Mercedes-Benz User Experience system. This interface learns your preferences and behaviors in order to provide seamless interactions that work to enhance, rather than impede your driving experience. You'll be able to activate easy voice commands and touchscreen controls that give you access to a world of helpful applications.
The 2020 GLC is also available with the new Mercedes-Benz Driver Assistance Package. This suite of safety features includes Active Brake Assist, Active Lane Change Assist, and more.
2019 Mercedes-Benz GLC Against the Competition
The 2019 Mercedes-Benz GLC is a premier model in the small luxury SUV segment. However, it's far from the only viable option. Drivers near Ann Arbor will likely consider other models like the Volvo XC60 or Audi Q5. We've provided a quick comparison between these models below for your benefit. Take a look at how the 2019 GLC stacks up against the competition and you can make an informed decision for yourself.
2019 Mercedes-Benz GLC vs. 2018 Audi Q5
The new Mercedes-Benz GLC offers more powertrain options than the Audi Q5. The Q5 gives you just two engine options. By contrast, the 2019 GLC offers four engine options for a range of performance levels. You can pick the engine that suits your power preferences.
Both models offer usable power under the hood, but the 2019 GLC pulls ahead when it comes to maximum power output. While the SQ5 peaks at 354 horsepower, the AMG GLC 63 SUV turns out a mighty 503 horsepower. You can even get more power with the AMG GLC 43 SUV, which makes 362 horsepower.
The 2019 GLC uses technology to improve efficiency. Standard ECO start/stop technology can deactivate the engine during idling or stop lights to help reduce fuel consumption. Similar technology is not standard on the 2018 Q5.
2019 Mercedes-Benz GLC vs. 2019 Volvo XC60
Both the 2019 GLC and the 2019 XC60 use a standard turbocharged 2.0-liter four-cylinder engine. While the XC60 manages to scrape together slightly more horsepower, the GLC beats it in torque with 273 pound-feet. That means you'll have plenty of low-end punch right when you need it.
When it comes to maximum power, the two take quite different approaches. The Volvo XC60 uses a Plug-In Hybrid system to achieve 400 horsepower and 472 pound-feet of torque. Mercedes-Benz, on the other hand, handed the GLC over to the AMG performance department to achieve max power. The result is the AMG GLC 63 SUV, which uses a biturbo, handcrafted V8 to produce 503 horsepower and 516 pound-feet of torque.
The new Volvo XC60 mates its engines to a standard eight-speed automatic transmission. If you're looking for even more precise control over revs and gearing, check out the 2019 Mercedes-Benz GLC. The 2019 GLC offers a nine-speed automatic transmission with manual shift capability.
Explore the 2020 GLC SUV at Mercedes-Benz of Ann Arbor
You won't have to wait to experience the 2020 GLC for yourself -- it's available now at Mercedes-Benz of Ann Arbor. Visit us at your leisure to take the small luxury SUV out for a test drive near Jackson, MI and Saline, MI.