Mercedes-EQ: All-New 2022 EQS Sedan
The new flagship of the electric fleet.


INNOVATION
It's like no electric car you've seen. And it thrusts the Three-Pointed Star into a new tomorrow. Personally attentive. Seamlessly responsive. Uniquely imaginative. More than a new era of motoring, the EQS is here to make every day a fresh start for your own future.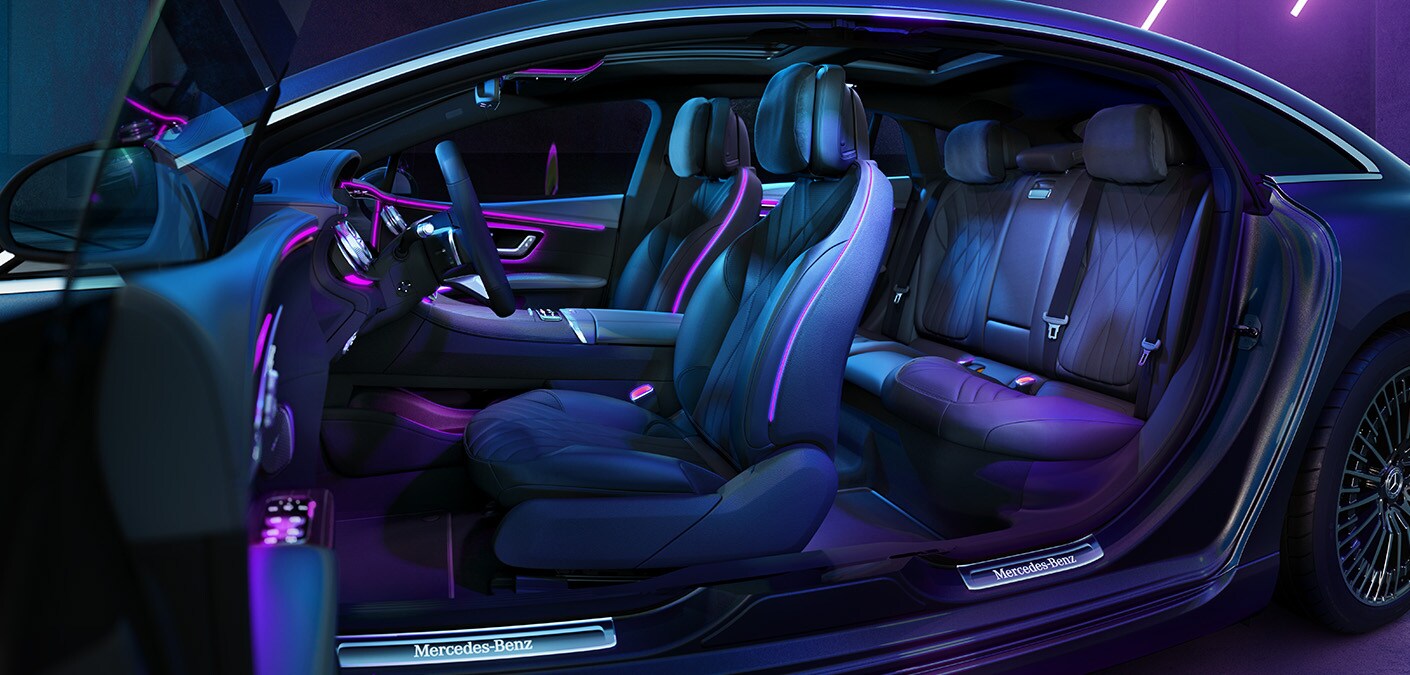 Ever more intelligent. Even more thoughtful.
Technology is tailored to serve every passenger in the spacious EQS cabin. It listens, and can tell who's speaking. Learns your face and fingerprint. It adapts to your habits, attends to your comfort, and anticipates your needs like no EV, or any car not born under the Star. (3)

The widest Widescreen. Zero layers deep.
Multiple screens unify under a single 56-inch span of high-tech glass. Standard on the EQS 580, the MBUX Hyperscreen uses artificial intelligence to bring features and commands to the surface on the go, a "zero-layer" menu concept for unmatched ease of use.
Countless sensors. A singular sense of confidence.
As many as 350 sensors maintain virtual vigilance on you, your passengers, and the world around your EQS. From standard state-of-the-art driving assists to extensive EV-specific protective measures, it's how the EQS looks out for you that'll make you'll look forward to every drive.

DESIGN
The advanced electric powertrain inspires a new era in style, but the EQS body is designed around you. Taut like an archer's bow, the shape optimizes cabin comfort and aerodynamic efficiency. Elegantly futuristic details captivate the eye, yet the wind barely notices the EQS sneaking through.
The aesthetics of kinetics. 
EQS 450+ wheels start at 20 inches and span up to 22. Fitted with range-optimized summer tires, they're available in four intriguingly detailed designs. Also available are two 21-inch AMG® options, paired with the AMG Line Exterior. The AMG elements are standard on the EQS 580. (4) (5)
Pure ambience, purified atmosphere.
LED ambient lighting in the dash, doors and even the seats offers 64 colors you can select and change as you wish. Available four-stage filtration with a HEPA filter can pre-purify the cabin air to a new level of clean, then pair aromatherapy with a rejuvenating massage.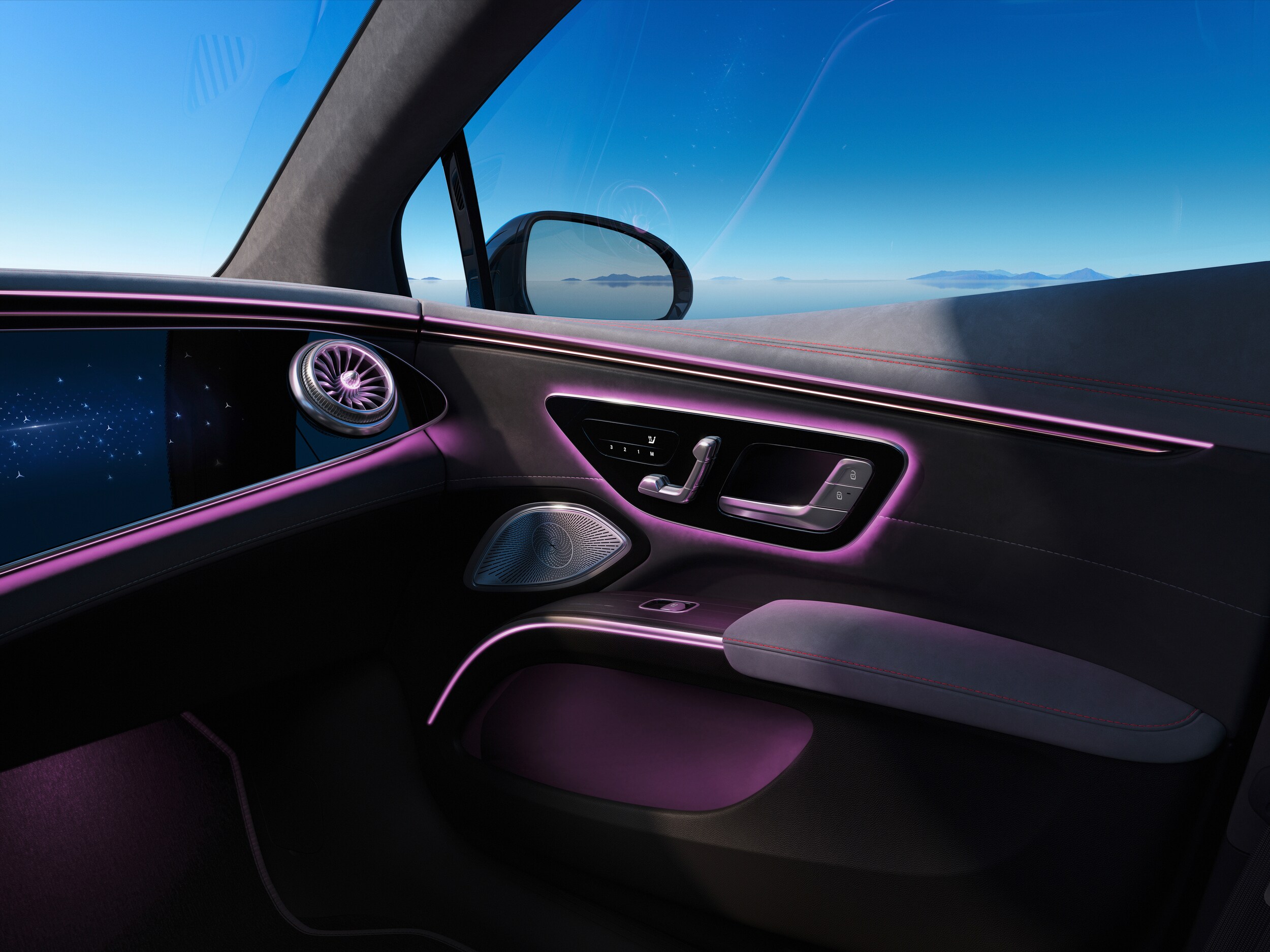 Three new heights of luxury.
Three "Trims" simplify EQS ordering. Standard Premium Trim includes such lavish luxuries as Burmester® 3D Surround Sound and ventilated front seats. Exclusive Trim adds massaging front seats, four climate zones and a Head-Up Display. Aptly named Pinnacle Trim adds a suite of rear-cabin indulgences. (6) (7)

PERFORMANCE
Beyond the generous driving range and brisk response of the EQS, its industry-advancing charging ecosystem offers nearly 60,000 charge points nationwide with the assurance of green energy. And its intelligent navigation sets a new standard for electric motoring simplicity.
Smooth, swift and sure.
An advanced permanently synchronous electric motor can turn 417 lb-ft of torque into rapid response in the EQS 450+. Dual front and rear-axle motors total 631 lb-ft in the EQS 580, creating an electric version of 4MATIC® all-wheel drive that can adapt the fully variable torque 10,000 times per minute. 
(8)
Room that maneuvers.
Standard rear-axle steering helps ease parking, turning and city driving. At speed, the rear wheels turn with the fronts for swifter lane changes, or adapt based on driving dynamics for more stable handling. Up to 10 degrees of low-speed steering gives the roomy EQS the turning circle of a compact car.
Air of authoritative handling.
Self-leveling AIRMATIC® air suspension can adapt each wheel's damping and ride height to optimize agility and poise in response to the loads, roads, and the driving modes of DYNAMIC SELECT. Automatic lowering helps enhance handling and driving range at highway speeds.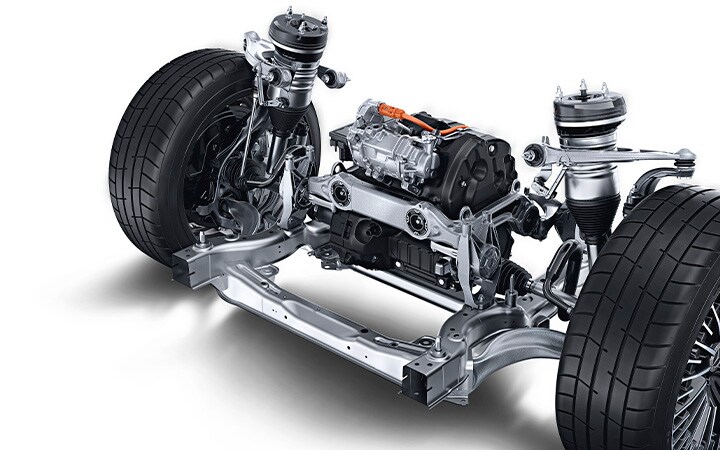 Charge forward, at no charge.
Charging leadership is a big way the EQS aims to be the flagship of all EVs. Mercedes me Charge helps simplify the entire process of locating, using and paying for charging on all major US networks. Complimentary 30-minute sessions at all Electrify America DC fast chargers are included for two years
. 
(9) (10)
Start the day charged at home.
Mercedes-EQ helps make charging at home easy, smart and ready for the future. Customers can access dedicated portals with ChargePoint and Qmerit, each designed to help you purchase and arrange installation of a highly rated home wallbox that integrates with your EQS and the Mercedes me connect app. 
(11) (12)
New Offer!
Lease $1139/mo for 36 months $7683 due at signing on the 2023 GLS 450 4MATIC SUV
2023
Mercedes-Benz
GLS 450
SUV
New Offer!
Lease $949/mo for 36 months $6673 due at signing on the 2023 GLE 450 4MATIC SUV
2023
Mercedes-Benz
GLE 450
SUV
New Offer!
Lease $1089/mo for 36 months $9633 due at signing on the 2022 EQS 450+ Sedan
2022
Mercedes-Benz
EQS 450+
Sedan
New Offer!
Lease $619/mo for 36 months $5683 due at signing on the 2022 EQB 300 4MATIC SUV
2022
Mercedes-Benz
EQB 300
SUV
New Offer!
Lease $1159/mo for 36 months $10,403 due at signing on the 2022 S 500 4MATIC Sedan
2022
Mercedes-Benz
S-Class
Sedan
New Offer!
Lease $1269/mo for 36 months $10223 due at signing on the 2023 EQS 450 4MATIC Sedan
2023
Mercedes-Benz
EQS 450
Sedan
New Offer!
Lease $1109/mo for 36 months $7103 due at signing on the 2022 GLS 450 4MATIC SUV
2022
Mercedes-Benz
GLS 450
SUV